Your holiday at Ouarzazate in southern Morocco
Claudie TOUIL,
Frenchwoman of Breton origin,
Seduced by Morocco during a journey in 1996,
she did not leave it any more since.
She is in charge of the management and the reception.
Lahcen TOUIL,
Moroccan of Berber origin.
Lover of his country, he presents it most
beautiful sides for 20 years.
According to Claudie, his visit of Morocco
is very charming

Recommended by the guide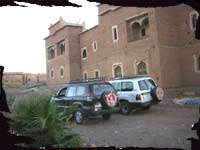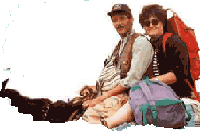 The 4x4
which will make you discover all these landscapes are TOYOTA or MITSUBISHI of 6 or 7 places. Recent, they ally comfort and adaptation to any types of ground.
They are maintained well and driven by experimented drivers who speak perfectly French.
The driver will be for you a friend who will help you during your stay.
Berbčre Evasion Bretonne makes strong welcome his customers as friends and is anxious to protect the quality of his connections.
Berbčre Evasion Bretonne proverb's: «less receive to receive better»