VALLEY AND GORGES

Exceptional sites. Quiet absolute and surprising beauty.
Better than in a film with change of scene every kilometre.
DADES AND TODRA GORGES -- 3 days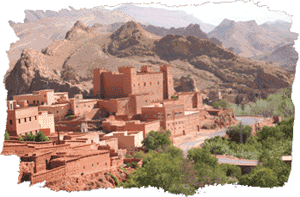 Departure for the Valley of the Roses by way of the road of 1000 kasbahs.
Night in the holiday cottage in Tamaloute by Houssine. This valley will make you appreciate the Berber hospitality. You will join the valley of Dadès by the track of Aït Youl. Magnificent landscapes of ochre earth and its impressive geologic formations.
You will take the road to the Gorges of TODRA, to spend the night there.
Stroll in the palm grove of TINEGHIR where you will go for a walk through the gardens.
Return to OUARZAZATE with a stop at the kasbah of Amérhidil in Skora, at the lake and at the kasbah of Taourirt.
The price is 230 euros per person on the basis of 4 persons
BIG TOUR -- 7 days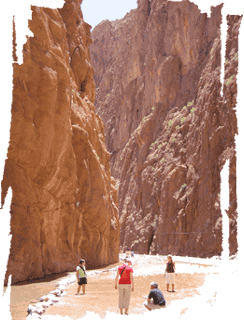 OUARZAZATE (or MARRAKESH) – Roses Valley - DADES GORGES – TODRA GORGES - dunes of MERZOUGA-ZAGORA - OUARZAZATE
The program: desert, tracks, gorges, valleys but also stroll, exceptional points of view, souks, craftsmen and meetings.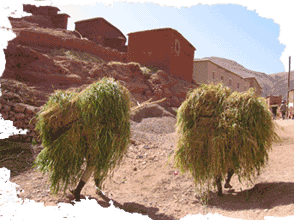 Simple but clean hotels with local atmosphere
The price is 480 euros
per person on the basis of 5 persons
4-star hotels
The price is 570 euros
per person on the basis of 5 persons